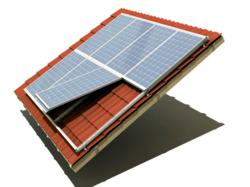 Scotts Valley, CA (PRWEB) December 13, 2011
Session Solar, a leading wholesale distributor of solar photovoltaic (PV) products, is pleased to announce its recent partnership with Boots on the Roof, a training facility for the renewable energy industry located in Fremont, CA. Under this new partnership, Session Solar has donated the technologically advanced CreoTecc solar mounting system which will be used in their commercial solar PV training and construction MegaLab. CreoTecc is made in the USA by Session Solar http://www.sessionsolar.com.
Session Solar will also work directly with Boots on the Roof to develop hands-on training and demonstrate how CreoTecc can significantly accelerate installation time while ensuring greater ease, flexibility and a lower installed cost. CreoTecc solar mounting systems feature an insertion rail design, which eliminates the need for clamps and reduces installation time by up to 30%. Due to the popularity and proven savings of CreoTecc mounting systems, over 150 MW have already been installed in Europe. Session Solar has brought the advanced mounting system to the United States for American solar installers to benefit from these savings.
Were delighted to have CreoTecc in our new Commercial Construction Lab. CreoTecc is a very innovative solar racking system, where standard solar panels just drop in to the frame with no tools needed. We want to give our students an opportunity to build with CreoTecc, so they can experience for themselves how fast this system is. Wed like to thank our friends at Session Solar for their support in adding CreoTecc to our Labs, said Chuck Rames, Program Director, Renewable Energy Division of Boots on the Roof.
By learning to install CreoTecc mounting systems, Boots on the Roof students will gain a competitive edge in the market place and be able to offer their clients greater savings, less roof penetrations, and gap-free module spacing for superior aesthetics. Unlike other systems that may impose constraints on module orientation, roof penetrations or rail placements, CreoTecc is engineered for complete adaptability, making it a great choice for both residential and commercial applications.
At Session Solar we are always looking for ways to help installers compete, says CreoTecc Product Manager Rodger Petherbridge. With our CreoTecc clampless mounting system, installers can offer proven, high quality systems that reduce the time it takes to design and complete the installation.
About Session Solar

Session Solar is a leading wholesale distributor of solar photovoltaic (PV) products from inverters to PV modules, and a manufacturer of CreoTecc solar mounting systems. Founded in 2007, Session Solar is supported by parent company SolarMarkt AG, a spin-off of one of the largest PV research institutes in Europe and Wurth Solar, a global pioneer in CIGS thin film technology, both headquartered in Germany. Session Solar is dedicated to growing the photovoltaic industry worldwide and promoting a world powered by sustainable energy with reliable, quality products. For further information, please visit Session Solar's website at http://www.sessionsolar.com.
About Boots on the Roof

Boots on the Roof specializes in training construction professionals on how to make the renewable energy business, their business. Using an engaging mix of classroom instruction and realistic hands-on lab exercises, Boots on the Roofs popular renewable energy boot camps teach not just design and installation, but also the financial, sales and marketing aspects of renewable energy. Boots on the Roof offers courses in Solar Photovoltaic, Solar Thermal, and Wind Energy at their Fremont, California main campus, and in Newark, New Jersey, with more locations to open soon. For media enquiries, please contact Navraj Bawa at 888-893-0367.
###