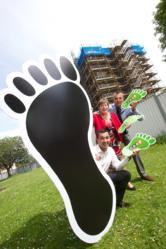 (PRWEB UK) 22 February 2012
Leading UK energy services company, Carillion, is teaming up with the Warrington based Belfry Group to exclusively market and install its award-winning, revolutionary heating system EcoPod, which can virtually halve energy costs and emissions in a wide range of buildings.
EcoPod reduces carbon emissions and energy costs by using a combination of renewable technologies, in a self contained system retro-fitted to existing and new buildings. Clients include local authorities, housing associations, trusts and commercial and industrial property owners and schools.
Carillion Energy Services is one of the largest national suppliers of heating and renewable energy. The collaboration agreement gives Carillion the exclusive right to market, sell and install the EcoPod system.

Carillion Energy Services director Phil Shepley says, EcoPod has already proved to be an outstanding solution for reducing fuel bills by over 40% in some cases and carbon emissions. A major benefit is that it allows renewable energy solutions to be introduced into large apartment blocks and, for the fuel poor, EcoPod brings significant reductions in energy costs to those who need it most.
The EcoPod system was invented and developed by Keith Rimmer, Managing Director of the Belfry Group and has already had tremendous success. Combining with Carillion means that we can now bring EcoPod to a wider customer base and we will have the delivery capability to expand the use of EcoPod across the public and private sectors and in domestic and commercial applications.
Carillion has an exclusive licence to provide EcoPod to customers worldwide and by investing in this innovative system, we can build on the current installations around Manchester and Liverpool. Collaborating with the Belfry Group in this way allows us to further develop a sustainable business in line with our 2020 Strategy for Sustainability, added Phil, Sector Director Public and Commercial, for Carillion Energy Services.
Keith Rimmer, Managing Director of the Belfry Group, says, "Carillion Energy Services shared our vision for the future of EcoPod and are excited at the prospect of driving it to the forefront of the renewable energy market.
Key benefits of EcoPod include: